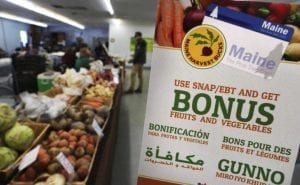 Upon releasing new rules that will make it more difficult for "able-bodied" adults to receive food stamps, Secretary of Agriculture Sonny Perdue explained, "Now, in the midst of the strongest economy in a generation, we need everyone who can work, to work. This rule lays the groundwork for the expectation that able-bodied Americans re-enter the workforce where there are currently more job openings than people to fill them."1
The revised qualification requirements, announced on December 4 by the Department of Agriculture, were long-expected new rules regarding the eligibility of individuals for the Supplemental Nutrition Assistance Program (SNAP), more commonly known as food stamps. The way the program currently works, "able-bodied working adults" with no dependents are eligible for SNAP benefits for three months out of every three years, unless they are enrolled in an education or training program for at least 80 hours per month or are working at least 20 hours per week.2
The issue for the Trump administration is that the program has given states wide leeway to allow some counties' residents to spend longer periods of time on SNAP. Until now, in order to grant such a waiver, a county's unemployment rate could be as low as 6.5 percent, while the threshold had been as low as 2.5 percent before last week. Therefore, according to the administration, thousands of people have been collecting food stamps for many months and years longer than they should have been.
In its announcement, the Department of Agriculture reported that this change in the rule will mean that approximately 688,000 people will be dropped from SNAP in the near future. The expected savings is estimated to be $5.5 billion over five years.3
After the new rules were announced, Representative Marcia Fudge (D-Ohio), who chairs the House Agriculture Subcommittee on Nutrition, Oversight, and Department Operations, criticized the stricter requirements. "This is an unacceptable escalation of the administration's war on working families, and it comes during a time when too many are forced to stretch already-thin budgets to make ends meet," she said. "The USDA is the Grinch that stole Christmas. Shame on them."4
So, should the federal government make it more difficult for people to be eligible for food stamps? Or are these changes an unnecessary burden on those who are trying to make ends meet?
When considering these questions, students should first understand how a person becomes eligible for SNAP.
Eligibility Requirements
Applicants must have INCOMES below certain levels, based on household size. A household is defined as people who live together and eat meals together. Applicants may have RESOURCES, but they must be below a certain level:
$2,000 for most households
$3,000 for a household with an elderly person (age 60 or older) or a disabled person
Most states exempt one or more vehicles from household resources
A household's home does not count as a resource5
1. Do these requirements seem reasonable? Is there anything you would change or add? Why?
An immigrant is eligible to apply for SNAP benefits if he/she:
Has been in the United States as a legal resident for five years
Is a documented immigrant child (not born in the United States)
Has earned, or can be credited with, 40 quarters of work
Is a refugee or asylee
Has a military connection
Is a member of certain Indian tribes6
2. Should immigrants who meet these requirements be eligible for food stamps? Why or why not? (You may wish to use discretion as to whether this question is appropriate in your class.)
3. Research the impact of SNAP in your state using this resource from the Center for Budget and Policy Priorities.
About what percentage of residents in your state use SNAP? How does this compare to the national average? What aspects of the economy in your state might contribute to the difference between your state and the national average?
What types of workers in your state are most likely to use SNAP?
How does your state's SNAP profile compare to those of other nearby or similar states? What may account for any differences?
4. After doing some research, read the following:
What are the strongest arguments in each piece? Which one aligns more with your point of view? Why?
5. The Department of Agriculture is considering two more rules that would further restrict eligibility for food stamps. Read the following opinion pieces about current and potential reforms:
From National Review
From the Los Angeles Times
What are the strongest arguments in each article? What values are important to the writers of each piece?
Do you believe the reforms to SNAP make sense or go too far? How?
Featured Image Credit: Robert F. Bukaty | AP
[3] Ibid.
[4] Ibid.
[6] Ibid.